Ibiza in 2 days: things to do and see
Places to visit, excursions and activities in Ibiza for all tastes
Anyone who has visited Ibiza will tell you that it is impossible to enjoy all it has to offer in just two days. There's so much to do and see on this well-known Balearic island that only 48 hours may not be enough. Either way, if you set your mind to it, you can make the most of your getaway. If this happens to be your case, you're probably wondering what to see in Ibiza in two days. Faced with such a situation, you have to know how to prioritise so that you don't feel that time is flying by and that you're not making the most of your stay. Ibiza has so many attractions that there are endless possibilities at your fingertips. Water activities, hiking, cultural visits, wine tourism, etc. In this article you will find different ideas so you can create your own itinerary. Shall we begin?
MUST-SEE ATTRACTIONS IF YOU'RE VISITING IBIZA FOR TWO DAYS
THINGS TO DO IN IBIZA AND ITS SURROUNDING AREAS
IBIZA BY NIGHT
GASTRONOMY OF IBIZA: SOME DISHES YOU MUST TRY
THE BEST BEACHES FOR DISCONNECTING DURING A WEEKEND IN IBIZA
MUST-SEE ATTRACTIONS IF YOU'RE VISITING IBIZA FOR TWO DAYS
If you're someone who needs to stroll through every inch of the city you're visiting to discover a little of its history, below you will find the must-see places in Ibiza: 

- Medieval walls of Dalt Vila: A World Heritage Site since 1999, these walls were built by Philip II in the 16th century to defend the territory from the threat of Turks and French. They were originally Islamic, and after the Reconquest they were maintained and remodelled. The views from the top, at the foot of the cathedral, are impressive. You can start or end the route here.



- Baluarte de San Bernart: In Dalt Vila you will have the chance to discover these defensive bastions which are now used for concerts and all kinds of performances. How to get there. 

- Portal de Ses Taules: It is the main entrance to the walls and is in the Plaza de la Constitución. Among its highlights are the statues that flank it and the coat of arms of Philip II that is displayed at the top. Find out how to get there.


- Torre del Homenaje: During your visit to Dalt Vila, you cannot miss this other defensive element that stands out for its great condition of conservation, especially its ashlar masonry.

- Ibiza lighthouses: The city's lighthouses have become a must-see attraction , as each one tells you a little about its history. At the end of Ibiza's promenade you will find the Botafoc lighthouse, which was inaugurated in 1861. The port and the Isla des Penjats lighthouses, which are close to the promenade are also worth a visit. If lighthouses are your thing you can visit some that are farther away, such as those in Punta Grossa and Des Moscarters in San Juan or the one in  Ses Coves Blanques in San Antonio.


All these places, except some lighthouses, are in the historic centre of Ibiza. If you stay in the city you can reach them on foot, as they are within a 300-metre radius of the city centre. If you are in the suburbs or nearby towns, you can take any of the 34 bus lines that operate in Ibiza. A good option is to rent a car or a motorbike to cover every inch of the island at your own pace.
Excursions and towns to discover
You can organise your own weekend in Ibiza as you wish. If you like the idea of discovering unforgettable landscapes, immersing yourself in nature and familiarising yourself with the fauna and flora of Ibiza, we recommend an excursion along the coastline of Es Vedrá, an islet considered a Nature Reserve due to its high ecological value.

If you are passionate about getting to know the most authentic side of the island, we suggest that you enjoy the magic of its most charming towns.
Such as Sant Carles de Peralta,  which belongs to the municipality of Santa Eulalia and in the 60s and 70s was home to numerous hippy communes. Santa Gertrudis de Fruitera, with its white houses and relaxing environment; Santa Eulalia del Río, a very quiet coastal enclave that you can enjoy with your family; Es Cubells, located right on the edge of a cliff, offers privileged views; Sant Jordi de Ses Salines; Santa Gertrudis, San Mateo...the list is never-ending.


THINGS TO DO IN IBIZA AND ITS SURROUNDING AREAS
We hope we are answering your question: What can I do in Ibiza in two days? But we still have some aces up our sleeve. Don't believe us? Read on.

-Jet ski tour around the Ibiza coast. There are several water sports companies that rent out these vehicles. It's an unforgettable experience that lets you see the island from a different angle.

- Boat trips. If the adrenaline rush isn't for you and you want something more relaxing, you can always opt for a boat ride. They can even be rented with a skipper so all you have to do is sit back and enjoy.

- Excursion to Formentera. If one island isn't enough, though that is hard to image, you have the chance to organise day trips to this other Balearic island. We recommend this experience if you are staying for more than 2 days. 

- Water sports and other outdoor activities. There are many options; from snorkelling, sailing or diving at some of the beaches and coves that we have already recommended to getting to know the more rural Ibiza, hiking in Ses Salines, a natural park where there are many routes, or the nature reserves of Es Vedrà, Es Vedranell and the islets of Poniente.


IBIZA BY NIGHT
As you know, Ibiza's nightlife is well known. It is undoubtedly the capital of one of the most prestigious clubbing destinations in the world. Dalt Vila, the port, with the La Marina and Sa Penya neighbourhoods, Calle de la Virgen, Vara del Rey and Plaza del Parque, Marina Botafoch, Ibiza Nueva, etc. These are the areas where you will find the most glamorous clubs and bars on the island, with a wide variety of settings so you can choose the one that best suits you.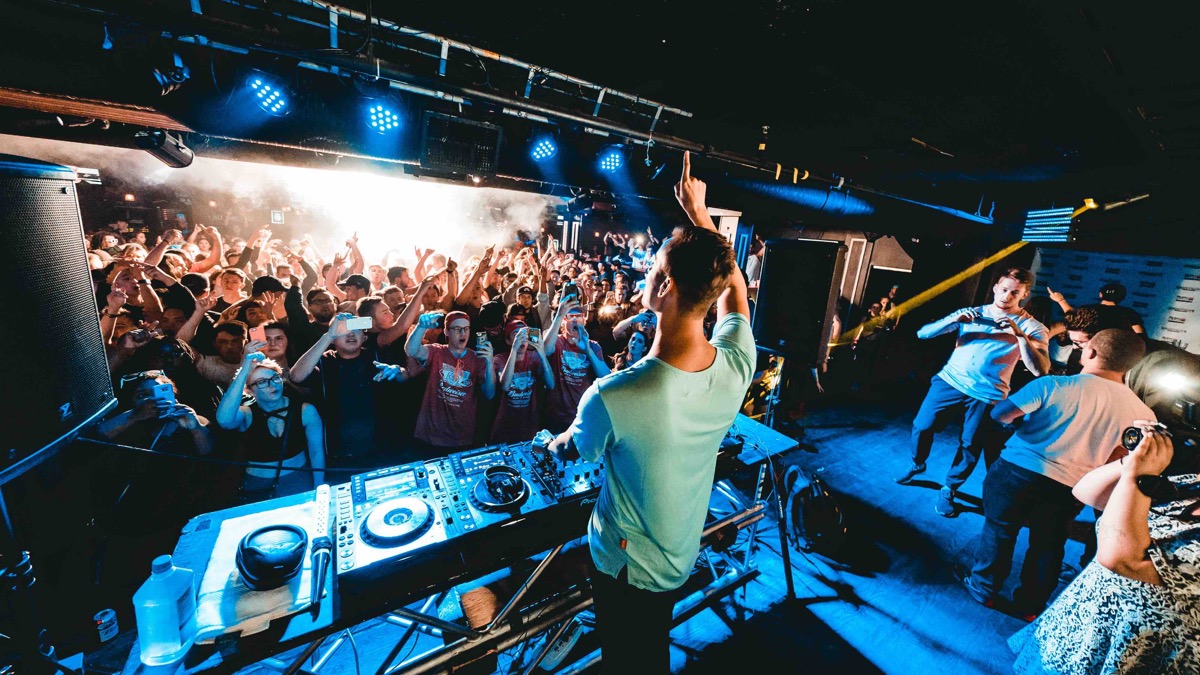 Amnesia, Pacha, Privilege, Space, El Divino, Bora Bora, Ushuaïa, Edén, Ocean Beach or Es Paradís are some of the most prestigious clubs where the best current DJs present their new works, and is one of the reasons many tourists come to the island.
GASTRONOMY OF IBIZA: SOME DISHES YOU MUST TRY
And how to leave the island without trying the most characteristic part of its gastronomy


We want to tell you about some typical dishes that we recommend you try. It will help you know what to eat during your weekend in Ibiza if you are looking to discover its flavours.

We recommend that you order recipes such as borrida de ratjada, made with ray-finned fish and potatoes in a casserole dish; bullit de peix and arroz a banda, made with fresh rock fish; guisat de peix, which is a fish stew; sofrit pagés, made with chicken, lamb and pork;

 cuinat, which is a vegetable stew with legumes; arroz de matanza, rice prepared over a fire with ribs, sobrassada, chicken, loin and black pig; sofrito de pulpo; sofrito de carne de cerdo de matanza; pickled pickarel with cauliflower or the classic ensalada payesa.


THE BEST BEACHES FOR DISCONNECTING DURING A WEEKEND IN IBIZA
If what you are looking for is to disconnect during a weekend on Ibiza's famous beaches, you have come to the right place. Here's a list of the best and most popular beaches, as well as their location and the best way to get to them. Take note.
Atmosphere and fun
- Las Salinas and D'en Bossa. If what you are looking for is the festive atmosphere of the island, no doubt these two beaches will not leave you indifferent. Las Salinas is in the south, and to get there from the city you must take the ronda in the direction of the airport up to San Jordi. D'en Bossa is halfway between Ibiza and San José and is easily reached by car following the signs.
To disconnect and for family fun
- Cala Salada and Cala Saladeta. The best part about these two coves is the area in which they are located, away from the urban development. Cala Salada is usually quite crowded, but if you want more tranquillity you can find it in Saladeta, walking a few minutes via a path or climbing via the rocks. Take the PM-812 in the direction of Santa Agnes if you are coming from San Antonio.





- Cala Gracioneta. It is also very close to San Antonio and is somewhat smaller than Cala Gració, which we also recommend. You'll feel like you're swimming in a natural pool when you take a dip in its calm waters. Again, if you are going from San Antonio you must take the PM-812 towards Santa Agnes.

-San Vicente. It is a cove located to the north-east of Ibiza, in the town of San Juan Bautista, from where you can take the PM-811. From Santa Eulalia, take the PM-810.


Other recommendations
Other equally attractive places to disconnect and relax or enjoy all kinds of water activities are Aguas Blancas, Cala Noix, Cala Nova, Cala Conta, Cala Vadella, Sa Caleta, Cala Bassa, Cala Llonga, Cala d'Hort... Any of these will captivate you.

So now you know what you can see in Ibiza in two days. Did our guide help you? Enjoy the experience and fall in love with our island and all its charms! 
01
Dalt Vila is in the heart of town, housing the most representative buildings of political, religious and commercial power
---
02
The moderner of the two impressive lighthouses on Formentera
---
03
In search of sunsets, cliffs and secluded bays in the unknown Ibiza
---
05
Two adjoining bays, both of which are so beautiful that the choice will be difficult for you!
---
06
A beach of sublime beauty, adorned with fishermen sheds
---